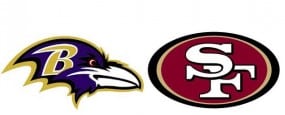 Even the worst Super Bowl contest player will get at least one question right in the latest edition of a long-running online football pool.
Will Coach Harbaugh win the Super Bowl is one of those can't-miss responses since brothers Jim and John lead the San Francisco 49ers and Baltimore Ravens into battle Sunday. It ensures all fans get a good start in a Super Bowl props contest called ProperBowl.com.
ADVERTISEMENT: Check out the latest Super Bowl odds and hundreds of props at Bovada – and get matchup reports and historical stats and trends at OddsShark.com
The rest of the 25 multiple-choice questions – all based on actual Las Vegas and online sportsbook prop questions – are tougher. But the game is simple to play and, for the host of a Super Bowl party who doesn't have time to organize his own pool, it's free and easy to run.
"Safe answers get you a safe amount of points and riskier longshot answers get a bigger amount of points, so you have to decide how to play the game," said Jack Randall of OddsShark.com, which has partnered with ProperBowl.com in recent years.
"Like the motto say, 'a game this big deserves a proper contest,' and that's what the props game provides for people who play online and those you print off the questions and use the game for their own parties."
Amid all the brand-named sweepstakes draws and noisy Super Bowl marketing, this contest has chugged along quietly for six years. Bovada returns in 2013 for its second year of sponsorship and there is nearly $3,000 in prizes available.
The contest has some fun with the Super Bowl XLVII theme, making prizes of $47.47 available and a grand prize winner is eligible for $474.74.
Some questions get answered before kick-off. Who will win the coin toss? Will the coin come up heads or tails? Interestingly, you earn a few more points for picking Baltimore because the AFC rep in the Super Bowl has lost 14 of the past 15 coin tosses.
Looking for point spread questions or guesses on the over-under? You have to look elsewhere for those.
ProperBowl.com questions focus on lighter, fun topics that the casual fan can enjoy. Will the jersey number of the first touchdown scorer be even or odd? Last year, it was even as Victor Cruz (No. 80) grabbed a TD pass from Eli Manning.
Will there be a score in the final two minutes of the first half? What is the over-under on the longest field goal of the game?
Some of the answers can be handicapped, others are just for fun.