E Five Racing Thoroughbreds and Stonestreet Stables' 2-year-old champion Good Magic headed a group of six hopefuls for next Saturday's $2 million Kentucky Derby Presented by Woodford Reserve (Grade I) putting in works at Churchill Downs on a Chamber of Commerce Saturday morning.
Good Magic worked five furlongs in 1:01.20, Flameaway worked a half-mile in :47.80, My Boy Jack worked five furlongs in 1:03.20, Free Drop Billy worked a half-mile in :49.40 and Promises Fulfilled worked five furlongs in 1:00.40. All of those works occurred during the 7:30-7:45 training window reserved for Derby and Kentucky Oaks horses.
Working at 5:30 was Bravazo, who worked five furlongs in 1:01.40.
Blended Citizen breezed one mile in 1:41.60 Saturday morning at Keeneland under jockey Kyle Frey.
Bolt d'Oro worked a half-mile in :48.20 Saturday morning at Santa Anita.
Firenze Fire worked a half-mile over the Belmont Park training track in :51.02.
Hofburg is the only Kentucky Derby probable starter scheduled to work at Churchill Downs on Sunday
Check out US Racing for the latest Kentucky Derby betting odds.
Monomoy Girl, who figures to be one of the favorites for the $1 million Longines Kentucky Oaks (GI), worked five furlongs in company in 1:01.60. Other Oaks fillies working at Churchill Downs were Sassy Sienna (half-mile in :49.20), Blamed (half-mile in :48.40) and Eskimo Kisses (five furlongs in 1:01.20).
Working at Santa Anita Saturday morning was Midnight Bisou, who covered six furlongs in 1:13.80 and Rayya (five furlongs in 1:01.80).
AUDIBLE/MAGNUM MOON/NOBLE INDY/VINO ROSSO – Many – in fact the majority – of trainers choose to walk their horses the day after a workout, but not so with multiple-Eclipse Award winner Todd Pletcher. He sends them back to the track.
"I like to see where they are the day after a breeze," he said Saturday morning after dispatching his Kentucky Derby-bound quartet trackside during the 7:30 to 7:45 Derby/Oaks-only special training period on a clear and crisp morning at Churchill Downs. "I want to see how they're moving; how they've come out of their exercise."
Check out US Racing for the latest Kentucky Derby betting odds.What he saw from his stakes-winning crew of Audible, Magnum Moon, Noble Indy and Vino Rosso pleased him.
"They all went well; they looked good."
"We're where we want to be with them," he continued while touching wood. "They'll all get their walk day tomorrow."
Saturday, the four colts under their regular exercise riders stretched their legs and took a turn standing in the starting gate. Magnum Moon (Nick Bush) and Vino Rosso (Adele Bellinger) each jogged a mile, while Audible (Amelia Green) and Noble Indy (Carlos Cano) galloped the same distance.
The previous morning they had been timed in half-mile drills at :49.40 (Audible), :47.40 (Magnum Moon), :47.20 (Vino Rosso) and a five-eighths move of 1:01.60 (Noble Indy).
The bay Audible, hero of the Grade I Florida Derby, is owned by the four-way partnership of China Horse Club International, Head of Plains Partners, Starlight Racing and WinStar Farm. Stablemate Magnum Moon, who rang the bell most recently in the Grade I Arkansas Derby, races for Lawana and Robert Low. Louisiana Derby (GII) winner Noble Indy goes postward for the pairing of WinStar Farm and Repole Stable, while Wood Memorial (GII) victor is co-owned by Repole Stable and St. Elias Stable.
BLENDED CITIZEN – Greg Hall and SAYJAY Racing's Blended Citizen worked one mile at Keeneland in 1:41.60 Saturday morning under jockey Kyle Frey, according to trainer Doug O'Neill's assistant Jack Sisterson.
The Jeff Ruby Steaks (GIII) winner is No. 21 on the Kentucky Oaks leaderboard.
Ship date is to be determined.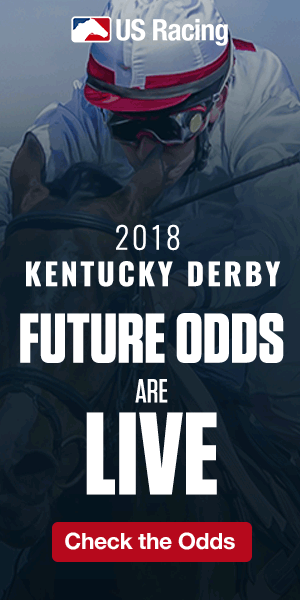 BOLT d'ORO – Owner/trainer Mick Ruis said he got "exactly what we wanted" Saturday morning at Santa Anita Park in California when his Kentucky Derby-bound ace Bolt d'Oro drilled four furlongs in :48.20 at 7:45.
With three-time Kentucky Derby winning rider Victor Espinoza in the tack, the husky son of Medaglia d'Oro put in his final bit of exercise for the 144th Run for the Roses much to the delight of the mercurial Ruis.
"Victor never moved a hand on him," the owner/trainer said enthusiastically. "He went around there easy as could be. We didn't need any more with him. We put that seven-eighths (work) into him last week (April 22) and he's got all his air now. Heck, if after his wins in the San Felipe (GII) and the Santa Anita Derby (GI) and that good work last week — if that isn't enough to have him ready for this race — then we shouldn't be there."
Espinoza, who scored in the Kentucky Derby with War Emblem (2002), California Chrome (2014) and American Pharoah (2015), will handle the $630,000 yearling purchase next Saturday.
Ruis was on his way to the airport in Los Angeles for a flight to Kentucky and a first-time visit to Chestnut Farm, a facility he'd recent purchased that is located approximately four miles from Keeneland Race Course.
Bolt d'Oro will ship to Louisville Monday on a flight with several California horses bound for stakes engagements at Churchill Downs. Ruis said he will drive over from Lexington to meet him that day.
BRAVAZO – Calumet Farm's homebred Risen Star (GII) winner Bravazo breezed five furlongs in 1:01.40 Saturday morning at 5:30 with exercise rider Danielle Rosier aboard for Hall of Fame trainer D. Wayne Lukas.
Breezing inside maiden Berko (1:01.80), Bravazo started two lengths behind and worked through splits of :14, :26 and :37.80 before galloping out six furlongs in 1:15, according to Churchill Downs clocker John Nichols.
"He's doing really good," the 82-year-old Lukas said. "It's always great to have a horse in the Derby – even though this year's field is tougher than others."
Lukas confirmed Saturday Luis Contreras will have the mount on the first Saturday in May.
COMBATANT/DREAM BABY DREAM – With exercise rider Angel Garcia up, Winchell Thoroughbreds and Willis Horton's Combatant galloped 1 ½ miles for Hall of Fame trainer Steve Asmussen.
Needing two defections to make the field, Dream Baby Dream Stable's Dream Baby Dream galloped 1 ½ miles with Juan Vargas in the saddle.
ENTICED – Godolphin's multiple graded-stakes winner Enticed galloped at Palm Meadows Training Center Saturday morning for trainer Kiaran McLaughlin.
Winner of the Kentucky Jockey Club (GII) here last fall, Enticed is scheduled to gallop again Sunday morning before beginning the ship to Kentucky in the afternoon for a Monday arrival at Churchill Downs.
Junior Alvarado, who was aboard for the victory here last fall, has the mount in Derby 144.
FIRENZE FIRE – Mr. Amore Stable's Firenze Fire worked a half-mile on his own in :51.02 over the Belmont Park training track.
"It was just a maintenance move," trainer Jason Servis said. "It was fine. He is supposed to leave at 11 in the morning and be at Churchill Monday."
Paco Lopez has the Derby call on Firenze Fire.
FLAMEAWAY – John Oxley's Flameaway worked four furlongs in company in 47.80 for trainer Mark Casse during the 7:30-7:45 training window for Derby and Oaks horses.
Ridden by Chris Garraway, his splits were 11.60, 22.80 and 34.80, galloping out in 1:02. Casse was on site for the work.
"I honestly couldn't ask for anything better," Casse said of the work that was the second fastest of 83 at the distance. "We had radios on the rider, so we stopped him at about the three-sixteenths pole to slow him down because he was going to work faster than I've ever seen him work. He's not much of a workhorse normally, but he's gotten a little more aggressive and worked better here I would say."
Flameaway's workmate was John Oxley and My Meadowview Farm's Ride a Comet, who Casse said will run in the 1 1/16-mile American Turf (GII) on Derby Day.
Jockey Jose Lezcano, who has ridden Flameaway in his past three starts this year, has the mount in the Kentucky Derby. Flameaway most recently ran second in the Blue Grass (GII) April 7 behind Good Magic.
FREE DROP BILLY/PROMISES FULFILLED – It was a busy morning at Churchill Downs' all-time leading trainer Dale Romans' Barn 4 Saturday with his two Derby contenders – Albaugh Family Stables' Free Drop Billy and Robert Baron's Promises Fulfilled – completing their major preparations for the Kentucky Derby Presented by Woodford Reserve (GI).
Front-running Fountain of Youth (GII) winner Promises Fulfilled breezed a half-mile in :48 with Juan Segundo up through splits of :12 and :24.40 before galloping out five furlongs in 1:00.40 and six furlongs in 1:13, according to Churchill Downs clocker John Nichols.
"I think most people know our plan in the Derby," Romans said. "This horse is naturally fast and so we'll be up front early and hope we can stay there late."
With Faustino Herrarte aboard, Blue Grass third-place Free Drop Billy worked a half-mile in :49.40 with splits of :12.60 and :37, according to Nichols.
"He worked really good," Romans said. "He already has a lot of foundation in him from the Blue Grass so he doesn't need anything major to get him ready."
With 710 victories at Churchill Downs, Romans surpassed Hall of Fame trainer Bill Mott's all-time win tally last fall. Both trainers do not have a victory in the Kentucky Derby.
"It would mean everything to me to get a win in the Derby," Romans said. "I keep sounding like a broken record telling everyone how badly I want a Derby win. When I broke Bill's record last fall it was probably one of the greatest moments of my career. I never thought I'd get as emotional as I did. It truly meant a lot to me and I can only dream of what it would be like to win the Kentucky Derby."
Corey Lanerie has the mount on Promises Fulfilled while Robby Albarado rides Free Drop Billy.
GOOD MAGIC – Last year's Eclipse Award-winning Champion 2-Year-Old Male, owned by e Five Racing Thoroughbreds & Stonestreet Stables LLC, put in his final pre-Derby work, breezing five furlongs in 1:01.20 under exercise rider Walter Malasquez. Churchill Downs clockers recorded splits of 12.80, 24.80, 36.60 and 49.40. Trainer Chad Brown timed the work in 1:00.80 with a six-furlong gallop-out of 1:13.80 and seven-eighths in 1:27.20.
"This is as good as he's ever worked," Brown said. "He won the Breeders' Cup last year off of a really, really good breeze. It's really taken all winter and spring to get him right to what we see today, at his very best."
The work unfolded at 7:30 a.m., during the exclusive Derby and Oaks training session. Malasquez wasted little time getting down to business, getting on and off the track while many of the other Derby horses were still backtracking and taking in their surroundings.
Brown described the move: "Headed to the pole the horse showed great energy. Actually, a little keen, but manageable. My rider, Walter, gets along with this horse, he's been galloping him every day and he's been breezing him. They have great chemistry together and he got him settled and focused when they started the breeze. From there on it was very smooth, well within himself."
Brown was in communication with Malasquez from the frontside during the work but said he only used the radio to confirm early on that they weren't going too fast.
"The time is a guideline to see where we're at, but really it's how he's moving, how he pulls up, soundness-wise and fitness-wise, and so far he's done everything we've asked him to do," Brown said.
Winner of the last two Eclipse Awards as the nation's top trainer, Brown has been openly enthusiastic about Good Magic's chances at wearing the roses, especially relative to the other very good horses he's brought here, like Normandy Invasion, fourth in 2013, and Practical Joke, fifth last year.
"He's the best horse we've ever taken to the Derby, for sure," Brown said. "He has all the qualities that I think it would take. He's a highly regarded 2-year-old champion, has the right pedigree, good looking, sound, and enormous ability.
"Coming into a big race you try to read their body language and see how they're doing overall. If you know your horses individually then you know what their par is and this horse looks to be in his zone right now, mentally and physically. He's giving me all of the right body language that I've seen from other horses going into big races over the years. In a way, you try to treat this race like any other big race and that's what we're doing and he's giving us all of the right signs."
The Breeders' Cup Juvenile (GI) and Blue Grass Stakes (GII) winner will be piloted in the Derby by the 2017 Eclipse Award winner as Outstanding Jockey, Jose Ortiz, who has been aboard since Good Magic's second start.
HOFBURG – Juddmonte Farms Inc.'s homebred Florida Derby (G1) runner-up Hofburg galloped about 1 1/2 miles under exercise rider Penny Gardiner, the former jockey who rode in the 1970s, raised two jockeys (Mark Chavez and Casey Chavez), and then rode races again in the mid-1990s.
Hall of Fame trainer Bill Mott reported that Hofburg "went very well" and has impressed him the past few days since arriving at Churchill Downs.
"He's moving very well over the track," Mott said. "We went through the paddock early and gave him a couple turns there."
The Derby will only be Hofburg's third start of 2018 and fourth overall. He broke his maiden on March 3 before earning all 50 of his "Road to the Kentucky Derby" points with the good second in Gulfstream's $1 million Derby prep, finishing three lengths behind the winner but more than seven lengths clear of the third-place finisher.
"He ran on," Mott said. "He kept up his run pretty well all the way to the wire and galloped out OK. I guess a horse like Audible certainly had license to beat him on the day, having had more experience, but hopefully we've caught up."
Hofburg is scheduled to work Sunday during the Derby training session with Gardiner up and will school in the paddock during racing Tuesday. Irad Ortiz Jr. has the Derby mount.
INSTILLED REGARD – OXO Equine's Instilled Regard galloped at Santa Anita Saturday morning and is scheduled to work at 6:30 a.m. Sunday with a Monday departure scheduled for Churchill Downs, according to trainer Jerry Hollendorfer's assistant Dan Ward.
JUSTIFY/SOLOMINI – The undefeated Santa Anita Derby winner and presumptive Kentucky Derby favorite walked the shedrow at Hall of Fame trainer Bob Baffert's Santa Anita Park barn the day after posting a seven-furlong workout in 1:25.20.
"You want to see a horse that's enjoying what he's doing," Baffert told the Santa Anita press office. "He worked well and got something out of it."
The work elicited rave reviews from onlookers for the way Justify accelerated around the Clubhouse turn.
"He hit the ground good," jockey Drayden Van Dyke said. "He's like a Cadillac."
Breeders' Cup Juvenile (G1) runner-up Solomini – owned by Zayat Stables LLC, Mrs. John Magnier, Michael B. Tabor & Derrick Smith – had an easy gallop this morning and is scheduled to work Sunday at Santa Anita, according to Zayat Stables racing manager Justin Zayat. The Baffert contingent for Derby weekend stakes, also including Kentucky Oaks contender Rayya and last year's Kentucky Oaks winner Abel Tasman, is expected to arrive Monday afternoon.
LONE SAILOR – G M B Racing's Lone Sailor walked Tom Amoss' Barn 29 shedrow following his half-mile breeze in :48 Friday morning.
MENDELSSOHN – UAE Derby (GII) winner Mendelssohn is expected to arrive in Louisville Monday at 5:30 p.m., according to Director of the Stable Area Steve Hargrave.
The colt is expected to stay in quarantine for 42 hours and could train Thursday morning.
MY BOY JACK – The stretch-running colt worked in his usual style Friday morning, starting off nice and easy but finishing up nice and strong for trainer Keith Desormeaux during the Derby/Oaks training break at 7:30.
The Cajun trainer's brother – Kent (he of the Hall of Fame) – is the dark bay's usual pilot, but for this exercise the conditioner called on a Cajun pinch hitter to handle the controls. Rider Brian Hernandez Jr. was in the tack as he broke off the Southwest (GIII) and Lexington (GIII) stakes winner at the five-furlong pole en route to a five-panel clocking of 1:03.20. Churchill Downs' clockers assigned splits of :13.60 and :38.40 along the way and tacked on a gallop out time of 1:16.60.
"He started out slow, but he picked it up pretty good at the end," trainer Desormeaux said. "That's just what we wanted him to do."
The trainer and his assistant, Julie Clark, watched the drill from the deck of the track's Bluegrass Breakfast tent on the backstretch and he timed his charge separately. "I got him going his last quarter in :24," he said. "He knows what he's doing."
Desormeaux noted further that "Jack" has 10 starts coming into the Run for the Roses, the most by any horse in the likely 20-horse field.
My Boy Jack is owned by the three-way partnership of Don't Tell My Wife Stables, Monomoy Stables and West Point Thoroughbreds. He has a bankroll that reads at $645,145 a week in front of his date in the $2 million guaranteed Kentucky Derby.
About an hour before My Boy Jack went through his exercise, Desormeaux worked another horse with a Kentucky Derby connection. With the stable's exercise rider Peedy Landry up, Sonneteer registered a half-mile drill in :51.60. A check of the 2017 Kentucky Derby chart would show that the dark colt had finished 16th in the race won by Always Dreaming.
SHAPING UP: THE KENTUCKY DERBY – Likely starters in the 144th running of the $2 million, Grade I Kentucky Derby Presented by Woodford Reserve to be run for 3-year-olds at 1 1/4 miles on Saturday, May 5: Audible (jockey Javier Castellano), Bolt d'Oro (Victor Espinoza), Bravazo (Luis Contreras), Enticed (Junior Alvarado), Firenze Fire (Paco Lopez), Flameaway (Jose Lezcano), Free Drop Billy (Robby Albarado), Good Magic (Jose Ortiz), Hofburg (Irad Ortiz Jr.), Instilled Regard (Drayden Van Dyke), Justify (Mike Smith), Lone Sailor (James Graham), Magnum Moon (Luis Saez), Mendelssohn (Ryan Moore), My Boy Jack (Kent Desormeaux), Noble Indy (Florent Geroux), Promises Fulfilled (Corey Lanerie), Solomini (Flavien Prat), Vino Rosso (John Velazquez).
Possible starters within the Top 20 on the preference list: Combatant (TBA).
Next up in order of preference: Blended Citizen (Kyle Frey), Dream Baby Dream (TBA), Restoring Hope (TBA), Sporting Chance (TBA), Givemeaminit (TBA) and Pony Up (TBA).
Michael Dempsey's Triple Crown Package $49.95
Get Michael's Dempsey's full card reports for the  three jewels of this year's Triple Crown! Included in this package is Michael's full card reports for Kentucky Oaks Day, Kentucky Derby Day, Preakness Stakes Day and Belmont Stakes Day. Michael's Reports includes his selections, analysis, fair odds line, and wagering recommendations for every race.