Godolphin Racing's Enticed worked five furlongs in 1:00.20 at Palm Meadows Thursday morning for trainer Kiaran McLaughlin as the pace of final works for the 144th Kentucky Derby Presented by Woodford Reserve (Grade I) as well as for the 144th Longines Kentucky Oaks (GI) began to pick up.
At Churchill Downs, five Derby works are scheduled for Friday morning headed by the Todd Pletcher-trained quartet of Audible, Magnum Moon, Noble Indy and Vino Rosso and the Tom Amoss-trained Lone Sailor. Lone Sailor is scheduled to work at 5:30; Audible, Magnum Moon and Vino Rosso at 7:30 and Noble Indy at 9.
Two Kentucky Oaks hopefuls worked Thursday: Courtlandt Farms' My Miss Lilly (half-mile in :48.80 at Churchill Downs) and Peter Deutsch's Take Charge Paula (five furlongs in 1:01 at Palm Meadows).
Scheduled to work at Churchill Downs Friday morning for the Oaks is Loooch Racing Stable's Heavenhasmynikki at 7:30.
Check out US Racing for the latest Kentucky Derby betting odds.
ENTICED – Godolphin Racing's Enticed worked five furlongs in company in 1:00.20 at Palm Meadows in Florida Thursday morning under exercise rider Jason Eracia.
"He worked great," trainer Kiaran McLaughlin said of the Wood Memorial (GII) runner-up who had worked last Thursday at Palm Meadows in 1:01.20. "I am very happy with and he has done well (since the April 7 Wood Memorial)."
Enticed is scheduled to leave Florida on Sunday and arrive at Churchill Downs on Monday. McLaughlin will be arriving in Louisville Monday night.
Junior Alvarado, who has ridden Enticed in five of his six starts, has the Derby mount.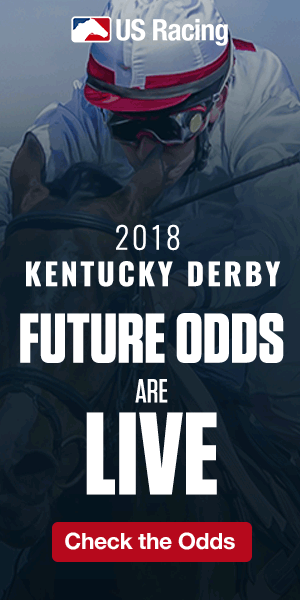 AUDIBLE/MAGNUM MOON/NOBLE INDY/VINO ROSSO — For the first time in three days, a fast track awaited trainer Todd Pletcher's four Kentucky Derby hopefuls Thursday morning, a day before their final works for the Run for the Roses.
All four galloped 1 3/8 miles during the 7:30-7:45 training window for Derby and Kentucky Oaks horses. As usual, Amelia Green was on Audible, Nick Bush on Magnum Moon, Carlos Cano on Noble Indy and Adele Bellinger on Vino Rosso.
"They all galloped well and it was nice to see a fast track," said Pletcher, who is looking forward to the Friday works.
"They all have different personalities. We are not looking to set any track records, just good maintenance works. Three of them will work at 7:30: Javier Castellano will be on Audible, John Velazquez on Vino Rosso and Nick (Bush) on Magnum Moon. Noble Indy will work at 9 o'clock with Florent Geroux up."
Luis Saez is the Derby rider for Magnum Moon and Pletcher said there was a "good chance" Geroux would wind up on Noble Indy.
A little more than an hour after this year's Derby contingent worked, Always Dreaming, the 2017 Derby winner, tuned up for next Friday's 15th running of the $400,000 Alysheba (GII) by working a half-mile in :49.20 under Bush.
Churchill Downs clockers caught Always Dreaming in fractions of :12.80, :25, :49.20 and then galloping out five furlongs in 1:02, six furlongs in 1:14.80 and seven-eighths in 1:28.40. The half-mile work was the 18th fastest of 50 at the distance.
"I was very happy with him. He was very enthusiastic and galloped out strong," Pletcher said. "Nick had to reach up and get him to slow down at the half-mile pole by the kitchen."
With the Breeders' Cup World Championships here this year, Always Dreaming could return here in the fall for a run in the Classic (GI).
"That would be ideal, but let's see him get through the Alysheba first," Pletcher said.
BRAVAZO – Calumet Farm's Bravazo galloped 1 ½ miles Thursday morning at 7:30 with exercise rider Danielle Rosier aboard for Hall of Fame trainer D. Wayne Lukas.
Lukas has not confirmed a jockey for Bravazo and expects the colt to breeze this weekend.
COMBATANT/DREAM BABY DREAM – Combatant, currently No. 19 on the Kentucky Derby leaderboard along with No. 22 Dream Baby Dream schooled in the gate Thursday morning at 7:30 and galloped 1 ½ miles for Hall of Fame trainer Steve Asmussen.
FLAMEAWAY – John Oxley's Flameaway galloped 1 ½ miles under Chris Garraway during the 7:30-7:45 training window for Derby and Oaks horses.
Trainer Mark Casse is scheduled to be at the barn Saturday morning when Flameaway is scheduled to breeze.
FREE DROP BILLY/PROMISES FULFILLED – Albaugh Family Stables' Free Drop Billy and Robert Baron's Promises Fulfilled galloped 1 ½ miles for trainer Dale Romans Thursday morning.
Both horses are expected to breeze Saturday morning at 7:30, according to Romans.
GOOD MAGIC – e Five Racing Thoroughbreds and Stonestreet Stables' Good Magic galloped 1 ½ miles under Walter Malasquez at 7:30 for trainer Chad Brown.
"I liked what I saw," Brown said of Good Magic's first day galloping over a fast track here since arriving Sunday from Keeneland where he won the Blue Grass Stakes (GII) in his most recent start.
Good Magic is scheduled to work Saturday with Malasquez aboard. Jose Ortiz has the Derby mount.
HOFBURG – Juddmonte Farms' Hofburg visited the paddock and then galloped about a mile and a half under Penny Gardiner at 7:30.
Trainer Bill Mott plans to work the Florida Derby (GI) runner-up on Sunday with Gardiner up. Irad Ortiz Jr. has the Derby mount.
LONE SAILOR – G M B Racing's Louisiana Derby (GII) runner-up Lone Sailor galloped 1 ½ miles at 7:30 a.m. under exercise rider Maurice Sanchez for trainer Tom Amoss.
The colt is scheduled to breeze early Friday morning, according to Amoss.
MY BOY JACK – Lexington (GIII) and Southwest (GIII) winner My Boy Jack had a regular walk day for trainer Keith Desormeaux.
Owned by Don't Tell My Wife Stables, Monomoy Stables and West Point Thoroughbreds, My Boy Jack is scheduled to go to the track Friday morning with Desormeaux on hand.
My Boy Jack is scheduled to work Saturday.
Michael Dempsey's Triple Crown Package $49.95
Get Michael's Dempsey's full card reports for the  three jewels of this year's Triple Crown! Included in this package is Michael's full card reports for Kentucky Oaks Day, Kentucky Derby Day, Preakness Stakes Day and Belmont Stakes Day. Michael's Reports includes his selections, analysis, fair odds line, and wagering recommendations for every race.