On Sunday morning, trainer Jonathan Thomas was happy to report that Catholic Boy came out of his four-length victory in the Grade 1, $1.25 million Runhappy Travers "really well," and that the long-range target for the 3-year-old likely will be the $6 million Breeders' Cup Classic on November 3 at Churchill Downs.
"He cooled out nicely, ate up well last night and looked like he had good energy this morning, so all in all he exited that race in good order," said Thomas, who one year ago took down his first graded stakes with Catholic Boy in the Grade 3 With Anticipation on the Saratoga turf. "[Last year,] the Travers would have been the last thing on our mind. We thought we had a nice, two-turn grass horse, which was perfectly fine. We've had this horse since he was a weanling, and to see his development … it's like [having drafted] an NFL player out of elementary school."
Thomas said the Grade 2, $500,000 Hill Prince at 1 1/8 miles on the turf on October 6 at Belmont Park was the most likely option as a prep for the Classic, but that the Grade 1 Jockey Club Gold Cup a week earlier was also a possibility, as would be letting Catholic Boy train up to the race in Kentucky.
Check out the latest Breeders' Cup Classic odds at US Racing.
"The Hill Prince seems to make sense right now; it's against his own age group, cutting back an eighth of a mile and on what I would call just a little bit of kinder surface," Thomas said. "I don't know whether we want to go running against [Grade 1 Whitney winner] Diversify [in the Jockey Club Gold Cup], as quick as he is. I don't know if that's something I feel good about.
"This horse [also] has the ability to come off the bench running," he added. "If we needed to add time, that's OK. We'll let the next couple of weeks tell us."
Although Catholic Boy is a Grade 1 winner on both turf and dirt, Thomas said the 1 ¼-mile distance of the Classic hits Catholic Boy "right between the eyes," and that the 1 ½-mile Breeders' Cup Turf against older horses was not something he'd like to tackle at this point.
The trainer said there was a palpable sense of relief on Sunday morning at the barn, outside of which hung the red-and-white blanket of flowers that Catholic Boy wore in the winner's circle.
Travers Replay

"It's a lot of pressure off," he said. "I think everyone felt very good about how this horse was doing. I know it sounds contradictory, but the better a horse is doing, the more nervous you get. Expectations are high. You feel like you're sitting on a keg of dynamite and you want it to go off at the right time. Everyone on our team has done an amazing job of getting us to this point."
Among the many congratulatory text messages Thomas received were one from his former employer, Todd Pletcher, and one from the Spa's leading trainer Chad Brown, whose Good Magic had been favored in the Travers.
"I got a great text from him and Chad, literally within a minute of each other," said Thomas. "It was like Peyton Manning and Tom Brady sending you congratulations. That meant a lot. They're peers and mentors and friends. There's not a decision I make that I don't refer back to what those kind of guys are doing and what I can implement in our own program."
The trainer added that Catholic Boy, now 6-1-0 from nine career starts with earnings of $1,842,000 for owners Robert V. LaPenta, Madaket Racing Stables, Siena Farm and Twin Creeks Racing Stables, would likely remain at Saratoga through the end of September before moving to Belmont Park.
Sword Dancer hero Glorious Empire using G1 Joe Hirsch as Breeders' Cup prep
Matt Schera's Glorious Empire, front-running upset winner of Saturday's Grade 1, $1 million Sword Dancer, is expected to return to New York for his final prep before the Breeders' Cup.
Trainer James "Chuck" Lawrence II said Sunday morning that he planned to bring the 7-year-old gelding to Belmont Park for the Grade 1, $500,000 Joe Hirsch Turf Classic at 1 ¼ miles on September 29 which, like the Sword Dancer, is a "Win and You're In" event for the Grade 1 Breeders' Cup Turf November 3 at Churchill Downs.
Lawrence was pleased with how Glorious Empire emerged from the 1 ½-mile Sword Dancer, his third consecutive win and second straight in a graded stakes at Saratoga, following his dead-heat victory with Channel Maker in the Grade 2 Bowling Green on July 28.
"He seems great. We gave him a bath and I took him out and grazed him, and he's no worse for wear," said Lawrence, who has been stabled the past week in Barn 1 across Nelson Avenue from the Clare Court trotting track. "We'll definitely consider the Joe Hirsch and definitely point for the Breeders' Cup, if it all works out.
"The Breeders' Cup was not an option or goal or anything before the Saratoga meet, I can tell you that," he added. "Our goal with him when he first came to me was, Matt wanted to win a race at Saratoga. We obtained that goal."
Sword Dancer Replay

Glorious Empire was claimed by Schera for $62,500 last May at Belmont and made four starts for trainer Carlos Martin before getting a break. He was sent to Lawrence upon his return, and made his seasonal debut running sixth in the one-mile Henry S. Clark on April 21 at Laurel Park.
He followed with wins in an optional claimer going about 1 1/8 miles on June 28 at Delaware Park and the Bowling Green, which was contested at 1 3/8 miles over a soft inner turf course. The Sword Dancer was Glorious Empire's 23rd start, having begun his career in England and having raced and won there and Hong Kong before coming to North America in the fall of 2016.
"The horse has been all over the world with a bunch of different other trainers. They all thought this horse had the talent," Lawrence said. "They were going a little shorter with him and he was actually sent to me with the thinking of maybe sprinting him. With his beautiful stride and trying to get him to relax a little bit, we decided to try and go the other way and go further with him. It's just all come together."
Lawrence and his family relived the Sword Dancer at dinner with Schera and his wife Saturday evening. He said Glorious Empire would ship back to his base at the Fair Hill Training Center in Elkton, Maryland Sunday night and likely have one work prior to the Joe Hirsch.
"He'll have about a week off, going out back at home and just hack around and be a horse. That's the normal schedule for him," Lawrence said. "We were pretty tired, but we did celebrate a little bit. It still hasn't sunk in quite 100 percent. I guess once everything slows down and I get to really thinking about it, it will. To win at Saratoga, a Grade 1, 'Win and You're In,' it's the ultimate."
The win was especially meaningful for Lawrence, a former steeplechase jockey who won 136 races and more than $2 million in purse earnings from 787 starts between 1983 and 2003. Among his Saratoga riding victories were the Grade 1 New York Turf Writers Cup with Chief of the Clan in 1987 and Warm Spell in 1993, who would go on to capture the Breeders' Cup Grand National Hurdle in 1994.
"To win at Saratoga is just really special. Having ridden here as a young adult, it's just special to win here probably more than any other place," he said. "I was very successful here. I didn't ride that long, but I rode very nice horses. I was very lucky."
'Not a bother' on Mendelssohn following runner-up performance in Travers
Mendelssohn emerged from his runner-up performance behind Catholic Boy in the Grade 1 Runhappy Travers in good shape, T.J. Comerford, assistant to trainer Aidan O'Brien, said Sunday.
"Even after his race yesterday, I had him down at the test barn, and he pulled the arms on me and he was still whinnying, so the race couldn't have taken that whole amount out of him because he had his dinner last night, he's straight into his breakfast, he's showing the signs that he's in a good place," said Comerford.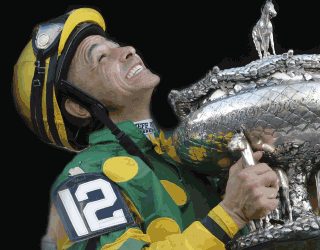 O'Brien has told The Irish Field that Mendelssohn, who is owned by Michael Tabor, Mrs. John Magnier, and Derrick Smith, will train up to the Breeders' Cup Classic.
Mendelssohn raced exclusively on turf as a 2-year-old, capping his campaign with a victory in the Grade 1 Breeders' Cup Juvenile Turf and defeating fourth-place finisher Catholic Boy. After launching his 3-year-old season with a victory in the Group 3 Patton over Dundalk's all-weather surface in March, Mendelssohn won the Group 2 UAE Derby on dirt by 18 ½ lengths later that month at Meydan Racecourse.
The Scat Daddy colt finished last of 20 following a rough trip in the Grade 1 Kentucky Derby, contested over a sloppy track in May at Churchill Downs. O'Brien sent Mendelssohn back to the United States for the Grade 3 Dwyer on July 7 at Belmont Park, and the well-traveled runner finished third, beaten 9 ½ lengths, as the 3-2 favorite after contesting the pace.
"I think [the Travers was] a big improvement to the last two," said Comerford. "I think that was the plan. Aidan wanted to give him confidence after Kentucky. They made him favored [in the Dwyer]. People thought he should have been winning that, but I suppose the way Aidan works is that you probably have to go back to come forward. Bringing him back for the [Dwyer] gave him a bit of confidence. That was his plan, to come here and then go to the Breeders' Cup. I suppose yesterday was a big improvement again from Belmont. It was a big step up for him, and he's done well. He's come out of his race very well. He's straight into his breakfast. There's not a bother on him."
In the Travers, Mendelssohn was sent to the lead from post 8 by jockey Ryan Moore, setting solid fractions of 47.81 seconds for the opening half-mile and 1:11.97 for three-quarters while being pressed to his outside by Catholic Boy, who took over nearing the quarter pole. Despite yielding the top spot, Mendelssohn stayed on well to finish four lengths behind the winner and one length ahead of third-place finisher Bravazo.
"You need the horses for [dirt racing] when you come here," said Comerford. "He is a horse who has the speed. You can't inject it into them. You either have it or you don't, and he seems to have it."
Comerford added that Seahenge appears to have emerged from his ninth-place finish in the Grade 1 Sword Dancer in good shape. Seahenge, winner of a Group 2 on the turf as a juvenile, entered the Sword Dancer off a third in the Patton, a fifth in the UAE Derby, a seventh in the Grade 3 Pat Day Mile, and a fifth in the Dwyer.
"He didn't run like I thought he might his first run back on the turf," said Comerford. "I don't know. I can't find any major excuses for him. He just never showed up. He got a bit hot before the race. Maybe he got a little bit excited; he just got a little bit warmer than Mendelssohn ever did."