An ever-growing competition has only made
Betmania
rear its head and become the premiere online platform it is today. We have successfully adapted to the ever-changing trends of the industry and kept up with its progressively expanding needs, because we have focused primarily on the satisfaction and safety of our customers.
Betmain is one of the top rated Race and Sportsbooks here at Turf 'n' Sport.
Furthermore, catering to the assorted, sundry needs and preferences of a very wide scope of customers while maintaining a high standard of quality, is at the head of the mission at Betmania. This is only possible when a safe and reliable platform also makes the excellence of the human element that provides services to customers, its focal point.
The promos and specials featured by Betmania are also part of making customer satisfaction a priority. Our Free Half-Point Promo for the NBA regular season, or the Dime Line Special for die-hard MLB fans, or even the Same-Day Payout Option, show off our involvement with our customers' gratification.
We are committed to improve and expand our platform and services, as we have done for 12+ years. We don't go under. We stay on top.
About Betmania
Betmania's classy sports betting shop is the offspring of a talented and visionary team of business entrepreneurs in beautiful Costa Rica. It opened its internet doors during the betting-site boom of the early 2000s and quickly succeeded in earning a foothold in the industry, by means of its spirit, originality and exclusive betting enhancement programs.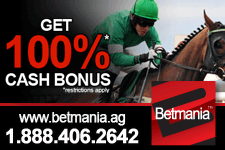 Based in sunny San Jose, Betmania employs a team of hand-picked veterans, possessors of long careers in the online betting turf and a deep understanding of the hopes and dreams of players everywhere. Our services include betting on sports, virtual and live casino action, a horse-racing platform and other amenities.
Our players enjoy exclusive betting enhancement plans and juicy deposit rewards. Betmania is home to the acclaimed MANIADVANTAGES, a set of unique and powerful betting tools designed to give a boost to you winning chances. Earn additional betting money with your next deposit: our Bonuses include sign-up and reload bonuses, referral programs, rebates and much more.
Main Features:
Sportsbook (covering events from all around the globe).
Casino Platforms (Live & Virtual) + vast Slots machine collection.
Racebook (Major American & International Tracks)
Sign-Up + Reload Deposit Bonuses + Racebook Rebate.
Sports Live-Betting.
Free Play & Cash Deposit Bonuses.
Same Day Payouts Monday thru Friday.
24-7 Support by Professional & Personable Team.
Unique Features:
Reduced Juice (Regular NBA & NFL Seasons).
Free Half Point on NBA Regular Season.
Dime Line Special for Regular MLB Season.
Crazy Teaser Odds on Football and Basketball.
Promotions:
Bonuses up to 200%.
Reload Bonuses: 100% Free Play.
25% Referral Bonus.
Live Casino Bonuses Up to 175%
Virtual Casino Bonus Up to 500%.
Slots Bonus: 350%, 500% & 600%.
200% Casino Referral Bonus.
15% Weekly Racebook Rebate.
Deposit Options:
Person to Person Money Transfers, Bank Transfers, Cashier Checks, Visa & Mastercard & Bitcoin currency accepted.
Bet Types offered:
Straight Bets, Parlays, Teasers, Reverses, If-Bets, Moneylines, Props/Futures, Buying Points option & Round Robins.
Live Casino Games offered:
Baccarat, Blackjack & Roulette.
Sign up at Betmania today with a huge bonus and great customer service!